Stanburn in the Harrow Netball Finals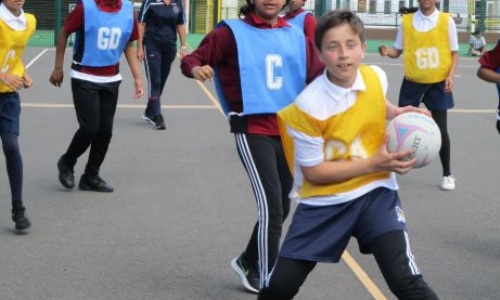 On Wednesday 8th June, the Stanburn Netball team participated in the Harrow Finals. The pupils were very excited to show off their Netball skills once more and did not disappoint! The team played against St Bernadette's (the hosts) first and won 5 - 0, followed by another strong win against Pinner Park 4 - 0. The shooting and passing was fantastic and all pupils worked so well as a team encouraging and supporting one another. The final match of the group stages was against Norbury where we were narrowly beaten but, our previous results saw us through to the finals where we beat St Joseph's 3 - 0 in a quick-paced final match. The string of excellent results meant we came third across the whole competition. A huge well done to the whole team: Yaseen, Molli, Halima, Zainab, Zahra, Ameera and a special mention to Haris who was awarded 'player of the day' and received a medal.
Haris said, "I am really happy to receive my medal and am proud of myself and the whole team - everyone played really well and we had a great trip out."