Sports Day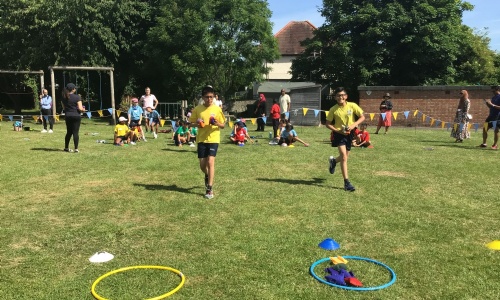 On Thursday 16th June, Year 3 and 4 and Year 5 and 6 participated in their annual Sports Day. The sun was shining, and it was brilliant to be able to invite parents back into school to see all of our sports skills in action. The children took part in a carousel of activities from an egg and spoon race, rugby relay and bean-bag throw, to a fast-paced 75m sprint. In the Year 3 and 4 Sports Day, each event was led by Year 6 Sports Leaders who confidently demonstrated and explained the activity. It was a wonderful day and a fantastic opportunity to demonstrate some of our Stanburn values of Respect, Co-operation and Aspiration.
A huge well done to Spain who won both the Year 3 and 4 Sports Day and the Year 5 and 6 Sports Day! An amazing result. The winner of the whole school competition will be announced on Friday once the Reception and Year 1 and 2 pupils have participated.
Pranay from 6 Platinum said, "We all had a brilliant day and loved helping the younger pupils enjoy their Sports Day to the fullest. We were proud of their teamwork and sportsmanship."